Innovation is within the company's genes, it is deployed from the prospection stage through an original approach and continues throughout the collaboration with our partners.
« A part is not just a specification and a price but a story that is built up between customer and supplier. This partnership can only be successful if it is based on mutual trust, transparence and technical background. » Damien AGUESSE, DECOREC CEO.

Discover below the different steps of how we can support you in bar-turning and grinding.
Examination of your project
Technical discussion
Commercial proposition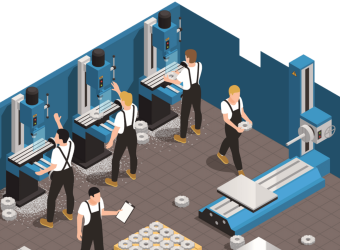 Industrialisation review
Project launch review
Production implementation and review
Planning of tasks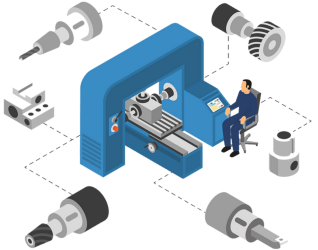 Production and series life
Production
Customer relations management
Process optimisation
1 – Examination of your project
Understand the needs and issues involved in consultation of the part to be done
Technical discussions between the different design offices and planning departments in order to optimize the technical-economic aspect of the part:

Feasibility study and proposals for improvement
Global approach depending on the part's environment and industrial constraints
Suggestions for alternative materials
Simulation in fluid mechanics or materials

Submission and validation of a commercial proposition

2 – Industrialisation review
This concerns the production of new parts, also known as first order review. When the process is run-in we go directly into series production mode.
Industrialisation review

Project launch review with a team from all departments: management, technical, sales, quality, supply chain, sales admin, production and planning
Production implementation
Production process validation
Feedback following launch of the series

Planning of the industrialisation follow-up tasks, along with the review
Delivered with schedules for the customer
Twice-weekly industrialisation review follow-up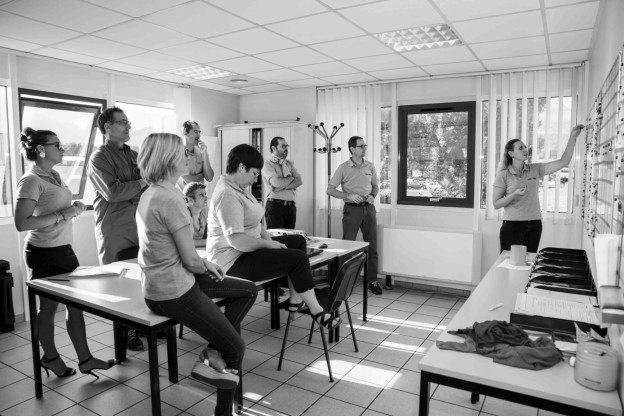 3 – Production and series life
For every first order, initial samples are made and put to the customer for approval.
Production:

Bar-turning on ESCOMATIC lathes (Ø 2 to 9), single-spindle NC (Ø 4 to 51), multi-spindle cam controlled or NC (Ø 8 to 35)
Centreless grinding in-feed and plunge, lapping
Milling: special machines developed by our design office
Finishing: sand-blasting, shot-peening
Sorting: special machines developed by our design office
Assembling
Packing
Preparation of initial samples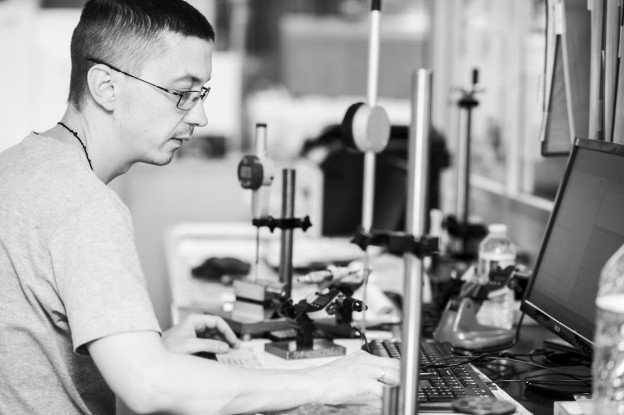 Customer relations management
Analysis and taking into account the forecast,
Inventory given to the customer,
Proposals for productivity gains,
Price control with revision depending on raw materials rates,
Regular face-to-face or video-call updates,
Mesure of customer satisfaction through interactive survey
… via extranet portals
Order and forecast transmisssion.
Pick-up request.
Logistics paperwork: ASN.
Sending of invoices and payment follow-up.
Quality documents on-line: PPAP.
Process optimisation
Ability to develop our own machines to meet customers' capability needs.
Find productivity gains.
Tracabilty
Ensured throughout the process thanks to a patented system which reduces handling of the tracability files.
Inspections
Done at all process steps: setting-up, production, returns from sub-contracting and final inspection.
Discuss together your projects
Our control of the complete value chain allows us to improve our responsiveness and ensure better cost control. We respect the criteria of cleanliness thanks to our high-performance equipment : specific cleaning machines, particule extractors. We have inspection and measuring devices to ensure the conformity of the parts.
Contact us